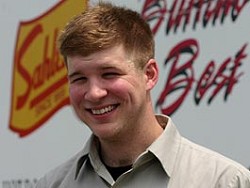 Posted (06/12/2007) - Sahlen's will be making a celebrated return to Ralph Wilson Stadium starting this fall. The Buffalo Bills Friday announced that the team has signed a sponsorship deal with Sahlen Packing Company, Western New York's hometown hot dog producer. Sahlen's will become the official hot dog company of the Buffalo Bills. In accordance with club policy, terms of the deal were not disclosed.

As the official hot dog company of the Buffalo Bills, Sahlen's will receive full trademark usage of all official Bills logos; signage at Ralph Wilson Stadium and sponsor presence on buffalobills.com and the Bills Video Board. Sahlen's Hot Dogs will also be served exclusively for all Ralph Wilson Stadium events.

"We listened to our fans," said Vice President of Business Development Pete Guelli, "and we were able to partner with Sahlen's to give them what they want - a quality hot dog from a great company. We are proud to, once again, be serving Sahlen's hot dogs at Ralph Wilson Stadium. Developing this partnership with a company that has been dedicated to the Western New York community for over 125 years, is a win-win situation for our fans and the Buffalo Bills."

Founded in 1869 in Buffalo as a family business, Sahlen Packing Company is dedicated to providing only the freshest and highest quality meat products. In addition to being the name behind the Buffalo area's favorite hot dogs and premium quality deli meats - Sahlen's has grown from its Western New York roots to offer its "Old Fashioned" Smokehouse Ham and Turkey Breast in over 15 states.

"We are proud to be involved with the Buffalo Bills organization," said Joe Sahlen, President of Sahlen Packing Co. "We are happy to support our home team and look forward to continuing our dedication to the Western New York community by providing the finest products available. Sahlen's has been supporting local charities for years, including Women's and Children's Hospital and the United Way.

For more information about Sahlen Packing Company visit www.sahlen.com.